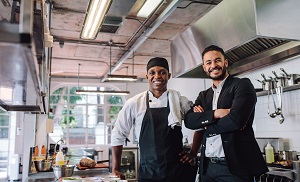 Restaurant owners face unique risks that certain types of insurance can help mitigate. Restaurant insurance can help provide valuable financial protection for your company.

Contact Germani Insurance Services in Los Angeles, California, to learn more about restaurant insurance and get a quote.


What Insurance Policies Does a Restaurant Need?
Your restaurant may benefit from purchasing insurance designed to protect against common risks in the industry.
General liability insurance helps pay for damages if your restaurant is legally liable for third-party damages, including injuries and property damage.
Commercial property insurance helps replace or repair your building and other structures on site after a covered event like a fire or storm.
Worker's compensation insurance is required by nearly every state. It helps cover medical bills and wage replacement if one of your employees is injured or becomes ill in a work-related incident or accident.
Business interruption insurance helps financially support your restaurant if you must stop doing business to allow for repairs after a covered event.

In addition to these basic coverages, your agent may also recommend other policies to help meet your needs:

Cyber liability insurance helps cover claims after a security breach.
Liquor liability insurance helps provide financial protection if your restaurant is held liable for a guest who causes an accident after purchasing alcoholic drinks at your restaurant.
Food spoilage and contamination insurance helps pay to replace food after a power outage or equipment breakdown.
Commercial auto insurance helps pay for your restaurant's liability if you or one of your employees causes an accident while driving for company business.
Commercial umbrella insurance can help cover costs after a liability claim that exceeds the limits of your other liability policies.
Your agent can help evaluate your situation to get the best combination of coverage for your restaurant.

What Happens When You Need to File a Claim
If you need to file an insurance claim, start by contacting your agent. They can walk you through the process so your claim is filed as quickly as possible.

How your claim is handled is primarily up to the insurance company, but your agent can be with you every step of the way to help you get your business back up and running as quickly as possible.

Get the Restaurant Insurance You Need
Whether you own a full-service restaurant, café, coffee shop, food truck, catering business, or any other company that prepares and serves food, having the right insurance is crucial to your future financial stability.

Contact Germani Insurance Services today to learn about your options and get a quote.