Contractors must account for significant risks and exposures amid daily operations. The potential for costly incidents that could result in significant losses and damages makes it necessary for your business to implement and maintain robust risk management and loss control practices. With that in mind, you should take the time to understand how to protect your physical property using suitable property insurance.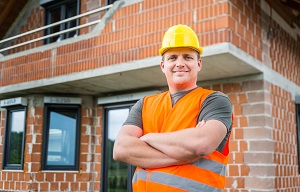 What Is Property Insurance?
Commercial property insurance, also known as business property insurance, is a crucial component of an adequate insurance portfolio for any business that depends on physical property to conduct regular operations. While specific details of your coverage may vary, in general, a policy may be able to provide financial assistance for losses caused by the following common incidents:

Fire
Explosion
Burglary
Theft
Vandalism
Windstorm
Hail
Lightning

What Is Covered By Property Insurance?
In general, property insurance for a contractor can provide critical financial protection for business property that remains at a set location. This may include the following:


Structures
Equipment
Tools
Inventory
Furniture
Signage
Fences
Landscaping
Personal property

Contractors should ensure they are aware of any limitations in their property insurance policies that may exclude possessions taken offsite. For example, buildings under construction and tools being stored at a job site or in transit may not be covered. With that in mind, it may be necessary to explore the following additional coverage options:


Tools and equipment insurance
Inland marine insurance
Builder's risk insurance

How Much Does Property Insurance for Contractors Cost?
Before being able to provide your contracting business with an accurate quote for sufficient property coverage, insurance companies must diligently analyze your specific circumstances. In general, this will include an analysis of the following criteria:


Type of contracting services offered
Structural details (e.g., building materials, age)
Location
Value of property being insured
Security measures (e.g., sprinkler systems, alarms)
Prior claims history
Policy details and limits

Get the Right Coverage
Although contractors may conduct a large portion of their operations at third-party locations, significant risks and exposures must still be accounted for on your business premises. Regardless of how diligent you may be in maintaining and securing your property, preventing all incidents may not be possible. Without sufficient property insurance, out-of-pocket costs could impose extensive losses on your business, devasting its finances and even jeopardizing its entire future.

We're here to help. At Germani Insurance Services, our agents have over 20 years of experience helping contractors understand their property insurance needs. We will work with you to assess your business and ensure you have optimal coverage. Visit our website or call us at 310-733-2390 to get started.