Commercial property insurance is an essential type of coverage for businesses of all sizes and sectors. These policies are necessary for any business—whether it rents, owns or leases space. Even businesses being operated out of a home should strongly consider this coverage.
Contact the insurance experts at Germani Insurance Services serving Califo rnia, Arizona, Washington, Oregon, Nevada and Utah. These agents can guide you through various policy options to tailor the right insurance package for your specific needs.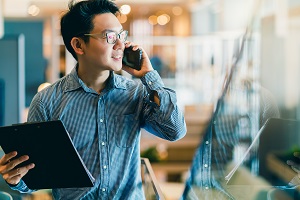 What Does Commercial Property Insurance Cover?
By having the right commercial property insurance policy, organizations will have proper protection from various potential risks and hazards. In general, policies provide coverage for owned or rented property and other physical assets or features used to operate a business. This could include the following:
Structures
Equipment
Inventory
Furniture
Signage
Fences and landscaping
Personal property
The right commercial property coverage can absorb or limit financial losses that may have otherwise devastated an organization's profits and future, including:
Fires
Storms
Crime, such as theft or vandalism
Burst pipes
In addition, many commercial property insurance policies can be customized to include additional coverage, such as for natural disasters like floods or earthquakes. Agents can adjust and augment policies in accordance with a policyholder's particular needs.
How Much Does Commercial Property Insurance Cost?
The experts at Germani Insurance Services will weigh several factors when putting together a quote for commercial property insurance. In general, premiums will depend on the value of all business assets, including structures. Other factors could include:
Operations—Certain types of businesses may carry more or less risk than others. For example, a realtor's office may be quoted a lower price than a restaurant.
Location—Businesses in areas where inclement weather or natural disasters are more common may be quoted higher premiums.
Building materials—Policies may be influenced by structural factors. For example, fireproof materials and newly updated wiring and plumbing may help lower policy costs.
Safety features—A building or property with certain safety features, such as fire suppression and security systems, may contribute to reduced premiums.
Get the Right Coverage for Your Business
Even when businesses take the necessary steps to protect and maintain their property, they may still be susceptible to unfortunate accidents or unforeseen circumstances. With that in mind, it's essential to contact Germani Insurance Services to discuss your commercial property insurance needs and acquire the proper coverage.


This blog is intended for informational and educational use only. It is not exhaustive and should not be construed as legal advice. Please contact your insurance professional for further information.